Graduate Seminars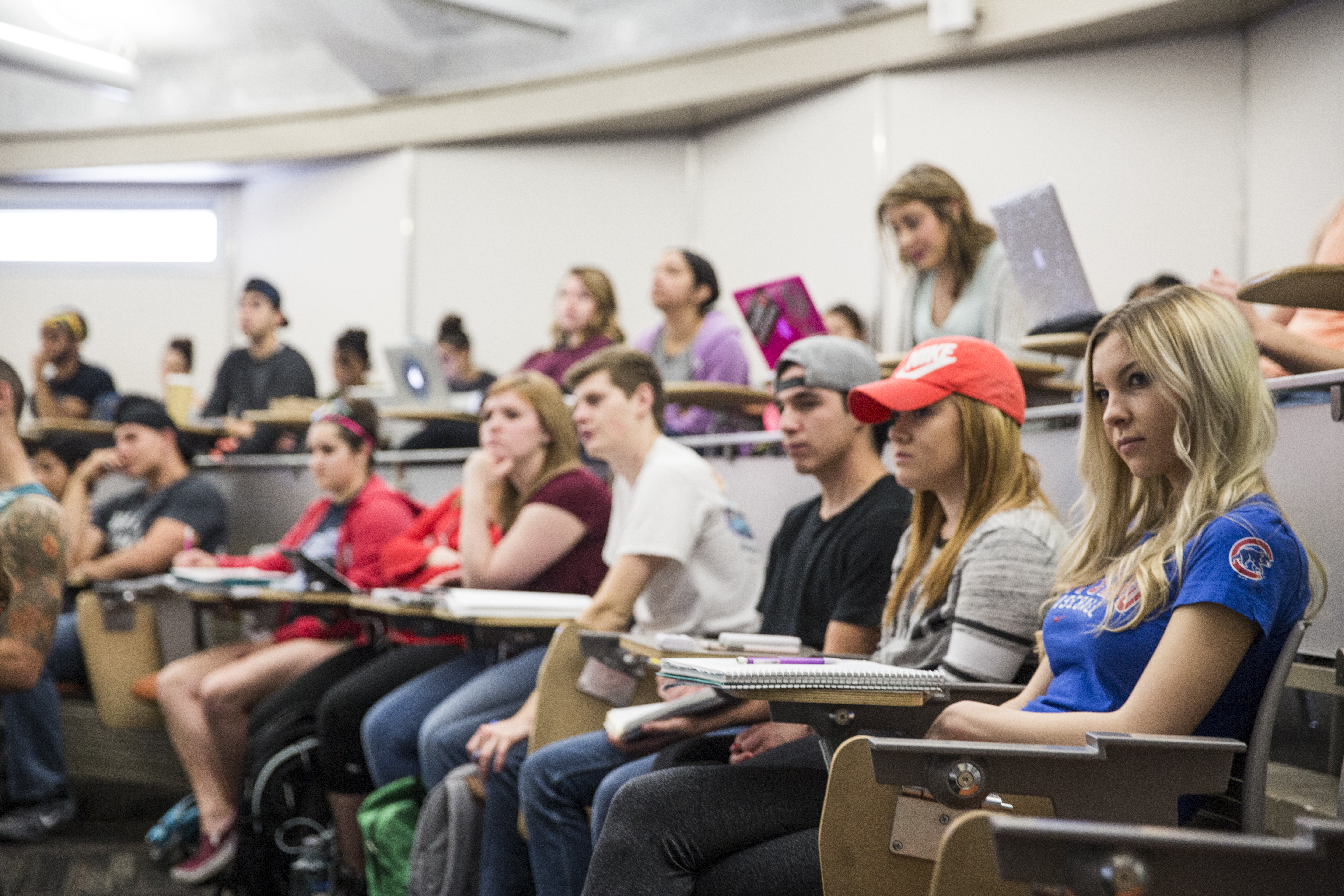 ---
April 19, 2019
Toward Additively Manufactured Continuous Carbon Fiber Reinforced Thermoplastic Composites for High Value, Low Volume Production Applications
Nekoda van de Werken , Mechanical Engineering, The University of New Mexico
When: Friday, April 19, 2019, 3:30 - 4:30 PM
Where: MECH 218
Abstract
Carbon fiber reinforced polymer composites (CFRPs) are exceptionally strong, stiff, and lightweight materials, though conventional composite manufacturing methods have many limitations. The anisotropic nature of fiber reinforced composites necessitates larger thicknesses for complex stress states, and tooling is required which is often expensive and limits geometric complexity. Recently, continuous fiber composites have begun to enter the space of polymer additive manufacturing (AM), which presents a suite of novel opportunities and challenges. Most notably, fused filament fabrication (FFF) of thermoplastic CFRPs allows for curved fiber paths that can be placed and oriented within a part to maximize performance. In the case of semicrystalline thermoplastics, however, the rapid melting and quenching constraint imposed by AM dictates the crystalline morphology of the polymer, which may need to be post-processed to optimize part properties. The primary focus of this study is to develop an appropriate modelling and design framework that maximizes the advantages of additive manufacturing for continuous fiber composites, and to investigate the process-structure-property relationships that relate to FFF of high-temperature semi-crystalline polymer composites. The crystalline morphology, fiber-matrix interfacial properties, and composite part properties as they related to the print thermal history and post-process annealing are currently under investigation.
About the Speaker
Nekoda van de Werken received his BSME and MSME from the University of New Mexico in 2014 and 2017, respectively. He is currently working toward his PhD in mechanical engineering at UNM with an expected graduation in Fall of 2019. His research interests are in the fields of polymer matrix composites, composite mechanics, nanomaterials and characterization. Work from his master's and PhD research has been published in high impact composites journals (Composites Part A and Composites Part B), and he was awarded the New Mexico Space Grant Consortium Fellowship in 2017. He has performed research in collaboration with Los Alamos National Laboratories, Sandia National Laboratories, and the Air Force Research Laboratories during his time as a graduate student.
---
April 12, 2019
Hyperbolic Method for Diffusion/Viscous Terms
Dr. Hiroaki Nishikawa, National Institute of Aerospace, Hampton, Virginia
When: Friday, April 12, 2019, 3:30 - 4:30 PM
Where: MECH 218
Abstract
This talk will discuss the idea of hyperbolizing diffusion/viscous terms for constructing superior numerical algorithms for diffusion and the Navier-Stokes equations. Hyperbolization allows us not only to discretize second-order elliptic/parabolic equations by methods developed for hyperbolic systems (e.g., upwind schemes), but also to generate schemes with superior features: convergence acceleration, high-order/quality derivatives on irregular grids, suitable for fully adaptive unstructured grid simulations. Moreover, it is demonstrated that hyperbolization is useful also for deriving conventional diffusion/viscous schemes as well as constructing algorithms for computing gradients. This talk is intended to provide an overview of the development of the hyperbolic method, a unique and simple idea for generating useful numerical algorithms.
About the Speaker
Dr. Nishikawa is an Associate Research Fellow at National Institute of Aerospace. He earned Ph.D. in Aerospace Engineering and Scientific Computing at the University of Michigan in 2001. He then worked as a postdoctoral fellow at the University of Michigan and joined National Institute of Aerospace in 2007. His area of expertise is the algorithm development for CFD, focusing on the hyperbolic Navier-Stokes method and related methods for unstructured-grid simulations. He is the author of a useful book on CFD: "I do like CFD, VOL.1" (cfdbooks.com).
---
April 5, 2019
The Near Earth Asteroid (NEA) Scout Cubesat ­­— Attitude Determination and Control System
Brandon Stiltner, NASA Marshall Space Flight Center, Huntsville, Alabama
When: Friday, April 5, 2019, 3:30 - 4:30 PM
Where: MECH 218
Abstract
NEA Scout is a 6U cubesat with an 86 square-meter solar sail. NEA Scout will launch on Space Launch System (SLS) Exploration Mission 1 (EM-1). The spacecraft will rendezvous with an asteroid after a two-year journey, and will take high resolution images of the asteroid's surface. The attitude control system consists of three major actuating subsystems: a Reaction Wheel (RW) control system, a cold-gas Reaction Control System (RCS), and an Active Mass Translator (AMT) system. The three subsystems allow for a wide range of spacecraft attitude control capabilities, needed for the different phases of NEA-Scouts mission. NEA Scout employs a solar sail for long-duration propulsion. Solar sails are large, flexible structures that typically have low bending-mode frequencies, so sail flex-avoidance is key for the ADCS. In this lecture, I'll give an overview of the NEA Scout spacecraft, and then focus on the design of its ADCS.
About the Speaker
Brandon Stiltner is an Aerospace Engineer with over 10 years of experience from various domains of industry. He is currently employed with Jacobs Technology working as a contractor at NASA's Marshall Space Flight Center in Huntsville, AL. Brandon's current role is a GN&C engineer working on the development of the Space Launch System (SLS) – NASA's new rocket that will return men to the moon. In that role, he is a member of the Liftoff and Separation Dynamics team and analyzes various events including booster separation and payload jettisons. Prior to this role, Brandon was a control system design engineer for a Cubesat project called Near Earth Asteroid (NEA) Scout. NEA Scout is a 6U Cubesat that will use a solar sail for propulsion. Its mission is to rendezvous with a near Earth asteroid, collecting high resolution images of the asteroid's surface while also allowing scientists to better classify its orbit. Prior to NASA, Brandon was a Missile Trajectory Analyst for the Missile Defense Agency (MDA). Prior to joining the space sector of industry, Brandon was an Unmanned Aircraft Design engineer where he designed, built, and flight tested several small UAVs. Brandon holds B.S. and M.S. degrees in Aerospace Engineering from Virginia Tech and is a Certified Modeling and Simulation Professional Engineer.
---
March 29, 2019
Direct numerical simulations of incompressible spatially developing turbulent mixing layers
Juan D. Colmenares F., PhD Candidate, UNM Mechanical Engineering
When: Friday, March 29, 2019, 3:30 - 4:30 PM
Where: MECH 218
Abstract
Turbulent mixing layers are a canonical free shear flow in which two parallel fluid streams of different velocities mix at their interface. Understanding spatial development of a turbulent mixing layer is essential for various engineering applications. However, multiple factors affect physics of this flow, making it difficult to reproduce results in experiments and simulations. The current study investigates sensitivity of direct numerical simulation (DNS) of such a flow to computational parameters. In particular, effects of the computational domain dimensions, grid refinement, thickness of the splitter plate, and the laminar boundary layer characteristics at the splitter plate trailing edge are considered. Flow conditions used in DNS are close to those from the experiments by Bell & Mehta (1990), where untripped boundary layers co-flowing on both sides of a splitter plate mix downstream of the plate. No artificial perturbations are used in simulations to trigger the flow transition to turbulence. DNS are conducted using the spectral-element method implemented in the open-source code Nek5000. Mean flow statistics obtained from DNS will be used for validation of high-order Reynolds-Averaged Navier-Stokes (RANS) closure models.
About the Speaker
Juan D. Colmenares F. is a PhD Candidate in the Department of Mechanical Engineering at the University of New Mexico, doing research in computational fluid dynamics (CFD). His dissertation work is focused on modeling a turbulent mixing layer using direct numerical simulations (DNS), contributing towards validation of high-order Reynolds-Averaged Navier-Stokes (RANS) closure models. This work has a potential impact on developing high-fidelity turbulence models, thus, benefitting aeronautics, aerospace, automotive and energy industries. He obtained his Bachelor's and Master's degree in Mechanical Engineering at the University of Los Andes (Colombia), where he developed an open-source code for aerodynamic analysis of lifting surface using the unsteady vortex-lattice method, which is currently being used in different projects.
---
March 22, 2019
The transition to turbulence in oscillating, Boussinesq flows near adiabatic, sloping boundaries in the abyssal ocean
Bryan Kaiser, PhD Candidate, Massachusetts Institute of Technology – Woods Hole Oceanographic Institution
When: Friday, March 22, 2019, 3:30 - 4:30 PM
Where: MECH 218
Abstract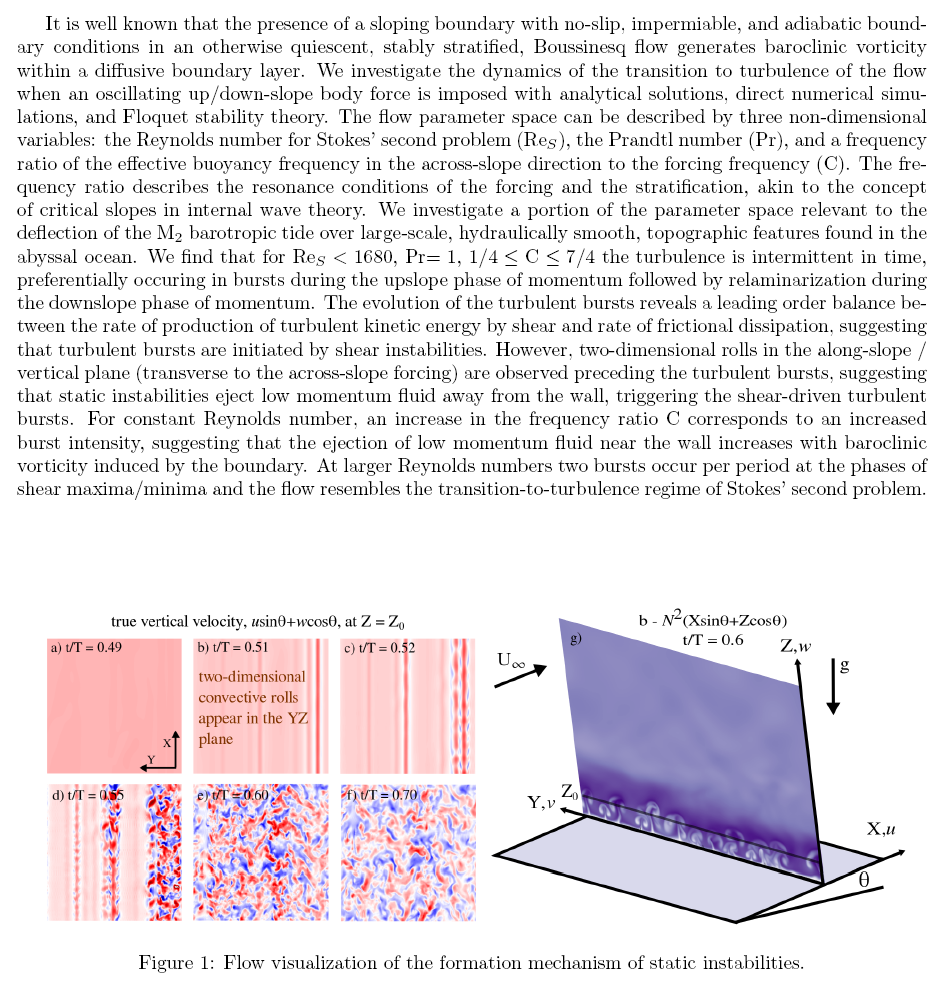 About the Speaker
Bryan Kaiser is a PhD candidate in Physical Oceanography in the Massachusetts Institute of Technology - Woods Hole Oceanographic Institution (MIT-WHOI) Joint Program. His thesis work explores the role of abyssal turbulence in the upwelling branch of the global overturning circulation of the ocean, through stability analyses, direct numerical simulations, in-situ observations, and machine learning. He holds MSME (2014) and BSME (2013) degrees from UNM, and prior to his engineering education he worked at 516 ARTS in downtown Albuquerque. Next year he will be a postdoctoral researcher at Los Alamos National Laboratory, where he will research baroclinic instabilities in directdrive inertial confinement fusion and develop machine learning techniques for hydrodynamic stability estimation.
---
March 8, 2019
Electrical Energy Infrastructure of the Future
Amir Sajadi, Senior Engineer, Public Services Commission of Wisconsin
When: Friday, March 8, 2019, 3:30 - 4:30 PM
Where: MECH 218
Abstract
The future energy infrastructure will be composed of hundreds of thousands of controllable and uncontrollable components that function in numerous ways. It also will involve high proliferation of renewable energy resources, such as solar, wind, and energy storage systems that could be integrated into the transmission and distribution networks. This complex system will manifest a sophisticated dynamic behavior and broad limitations in its control and operation. Accordingly, implementing high degrees of visibility and controllability, further integration of communication and advanced control infrastructures, and engagement of consumers are pivotal. This is to pave the path for advancements in energy management systems and to ensure a reliable, stable and secure power delivery. Considering the above-mentioned issues, the central gravity of my research plan is to focus on planning, management, stability, dynamics, and control problems associated future energy infrastructure and electric grid modernization.
In this talk, I will present the findings from two projects. The first project focuses on transmission system planning for the integration of large renewable power plants. My work, with the GE, NREL, FirstEnergy, and PJM, produced the guideline for the US Department of Energy on transmission systems planning using the US Eastern Interconnection. This guideline includes a series of techniques to determine operational impacts of offshore wind generation on steady-state and dynamic stability of large-scale power systems. The second project relates to real-time operation and control of future power systems. A crucial operating constraint for power systems is transient system stability. My work developed a computational framework for identification of multidimensional transient stability boundaries as well as critical operating conditions in a high-dimensional space for operation and stability.
About the Speaker
Amir Sajadi is a Senior Engineer at the Public Services Commission of Wisconsin where he oversees the planning and operation of the regional electric transmission services and wholesale energy market. He is also an Adjunct Assistant Professor of Systems and Control Engineering at the Case Western Reserve University in Cleveland, Ohio, and an Honorary Fellow in the Power Systems Engineering Research Center (PSERC) at the University of Wisconsin-Madison, Wisconsin. The areas of his expertise include modelling, operation, stability, and control of electric energy and power systems including the integration of renewable energy sources, storage systems, and electric vehicles. Amir attended various international universities under an international consortium including: Warsaw University of Technology in Poland, RWTH Aachen University in Germany, Telecom ParisTech in France, and University of Waterloo in Canada. He graduated with a M.Sc. in Electrical Engineering in 2012 from the Warsaw University of Technology. Subsequently, he earned a Ph.D. in Systems and Control Engineering in 2016 from the Case Western Reserve University in Cleveland, Ohio and then, between 2016 and 2018, he conducted his Postdoctoral research in Future Power Systems at the University of Manchester in the United Kingdom. Amir has authored approximately 40 international scientific and industrial publications and has spoken at leading power system conferences around the world. Currently, he is serving as the lead guest editor of the special issue of International Journal of Electrical Power & Energy Systems on Recent Advancements in Electric Power System Development Planning with High-Penetration of Renewable Energy Resources and Dynamic Loads.
---
March 1, 2019
Title TBA
Kenneth M. Armijo, Senior Member of the Technical Staff, Concentrating Solar Energy Technologies Department, Sandia National Laboratories
When: Friday, March 1, 2019, 3:30 - 4:30 PM
Where: MECH 218
---
February 22, 2019
Model Fidelity Studies for Rapid Trajectory Optimization
Lisa Hood, Member of Technical Staff, Navigation, Guidance, & Control II Division, Sandia National Laboratories
When: Friday, February 22, 2019, 3:30 - 4:30 PM
Where: MECH 218
Abstract
The generation of optimal trajectories for test flights of hypersonic vehicles with highly non-linear dynamics and complicated physical and path constraints is often time consuming and sometimes intractable using high-fidelity, software-in-the-loop vehicle models. Practical use of hypersonic vehicles requires the ability to rapidly generate a feasible and robust optimal trajectory. We propose a solution that involves interaction between an optimizer using a low fidelity 3-DOF vehicle model and feedback from vehicle simulations of varying fidelities, with the goal of rapidly converging to a solution trajectory for a hypersonic vehicle mission. Further computational efficiency is sought using aerodynamic surrogate models in place of aerodynamic coefficient look-up tables. We address the need for rapidly converging optimization by considering how to choose the fidelity of the model used for optimization so that the resulting guidance solution is robust and feasible, but the computation time to generate it is minimized.
About the Speaker
Lisa Gammon Hood is a member of technical staff at Sandia National Laboratories, working in the Navigation, Guidance, & Control II division. Lisa received a Master's degree in aerospace engineering from Georgia Tech in 2018 and a Bachelor's degree in aerospace engineering from Georgia Tech in 2003. Lisa's current work focuses on trajectory optimization and conceptual design for hypersonic vehicles.
---
February 8, 2019
Toward a Distributed and Automated Control Framework in Power Systems
Dr. Ali Bidram, Assistant Professor, Electrical and Computer Engineering, The University of New Mexico
When: Friday, February 8, 2019, 3:30 - 4:30 PM
Where: MECH 218
Abstract
Abstract Conventional electric power systems are facing continuous and rapid changes to alleviate environmental concerns, address governmental incentives, and respond to the consumer demands. The notion of the smart grid has emerged to introduce an intelligent electric network. Improved reliability and sustainability are among desired characteristics of smart grid affecting the distribution level. These attributes are mainly realized through microgrids which facilitate the effective integration of distributed generators (DG). Microgrids can operate in both grid-connected and islanded operating modes. Proper control of microgrid is a prerequisite for stable and economically efficient operation. Microgrid technical challenges are mainly realized through the hierarchical control structure, including primary, secondary, and tertiary control levels. Primary control level is locally implemented at each DG, while the secondary and tertiary control levels are conventionally implemented through a centralized control structure. The centralized structure requires a central controller which increases the reliability concerns by posing the single point of failure. Alternatively, the distributed control structure using the distributed cooperative control of multi-agent systems can be exploited to increase the secondary control reliability. The secondary control objectives are microgrid voltage and frequency, and DG active and reactive powers. Fully distributed control protocols can be implemented through distributed communication networks. Since the DG dynamics are nonlinear and non-identical, input-output feedback linearization can be used to transform the nonlinear dynamics of DGs to linear dynamics. The transformed dynamics of DGs are then being used in the design of distributed control protocols. In the distributed control structure, each DG only requires its own information and the information of its neighbors on the communication network. The distributed structure obviates the requirements for a central controller and complex communication network which, in turn, improves the system reliability.
About the Speaker
Dr. Michael Bilka received his PhD from the von Karman Institute and Vrije Universiteit Brussels in Belgium. From there he moved to the University of Notre Dame as a postdoctoral researcher. He then stayed on as Senior Scientist in the Notre Dame Turbomachinery laboratory and held a concurrent appointment as a Research Assistant Professor in the Department of Aerospace and Mechanical Engineering. In 2017 he left Notre Dame to join Ball Aerospace in Albuquerque where he currently works as a Research Engineer in the Effects, Research and Analysis group. His research interests include high speed and high enthalpy flows, turbomachinery flows, flow induced sound and vibration and unsteady instrumentation development.
---
February 1, 2019
Unsteady measurement techniques with application to turbomachinery flows and sound generation
Dr. Michael Bilka, Research Engineer, Effects, Research and Analysis, Group Ball Aerospace
When: Friday, February 1, 2019, 3:30 - 4:30 PM
Where: MECH 218
Abstract
Continued development of advanced simulation and design tools required increased fidelity measurements for verification and validation and detailed physical understanding. Many fluid flow problems of technological interest involve complex geometries and unsteady, turbulent flows. The development and validation of unsteady measurement techniques is needed to help further develop design and computational tools to advance quieter and more efficient technologies. In this talk the development of unsteady pressure and temperature instruments will be discussed. These techniques will be applied to turbomachinery and sound generating flows to help elucidate important flow f eatures that can lead to improved component efficiency and decreased sound generation.
About the Speaker
Dr. Bidram is currently an Assistant Professor in the Electrical and Computer Engineering Department, University of New Mexico, Albuquerque, NM, USA. He has received his B.Sc. and M.Sc. from Isfahan University of Technology, Iran, in 2008 and 2010, and Ph.D. from the University of Texas at Arlington, USA, in 2014. Before joining the University of New Mexico, he worked with Quanta Technology, LLC, and was involved in a wide range of projects in the electric power industry. He is an Associate Editor for the IEEE Transactions on Industry Applications. His areas of expertise lie within control and coordination of energy assets in power electronics-intensive energy distribution grids. Such research efforts have culminated in a book, several journal papers in top publication venues and articles in peer-reviewed conference proceedings, and technical reports. He has received the University of Texas at Arlington N. M. Stelmakh outstanding student research award, Quanta Technology Shooting Start award, and cover article of December 2014 in IEEE Control Systems.
---