Building bridges
August 1, 2019 - By Kim Delker
National Science Foundation-funded program helping students make the transition from community college to UNM
On a sweltering mid-July morning, Arturo Sanchez is hanging out by a fan. But the fan was not there to keep him cool. Instead, it was being used as a learning device to simulate wind and record the resulting voltage onto a spreadsheet.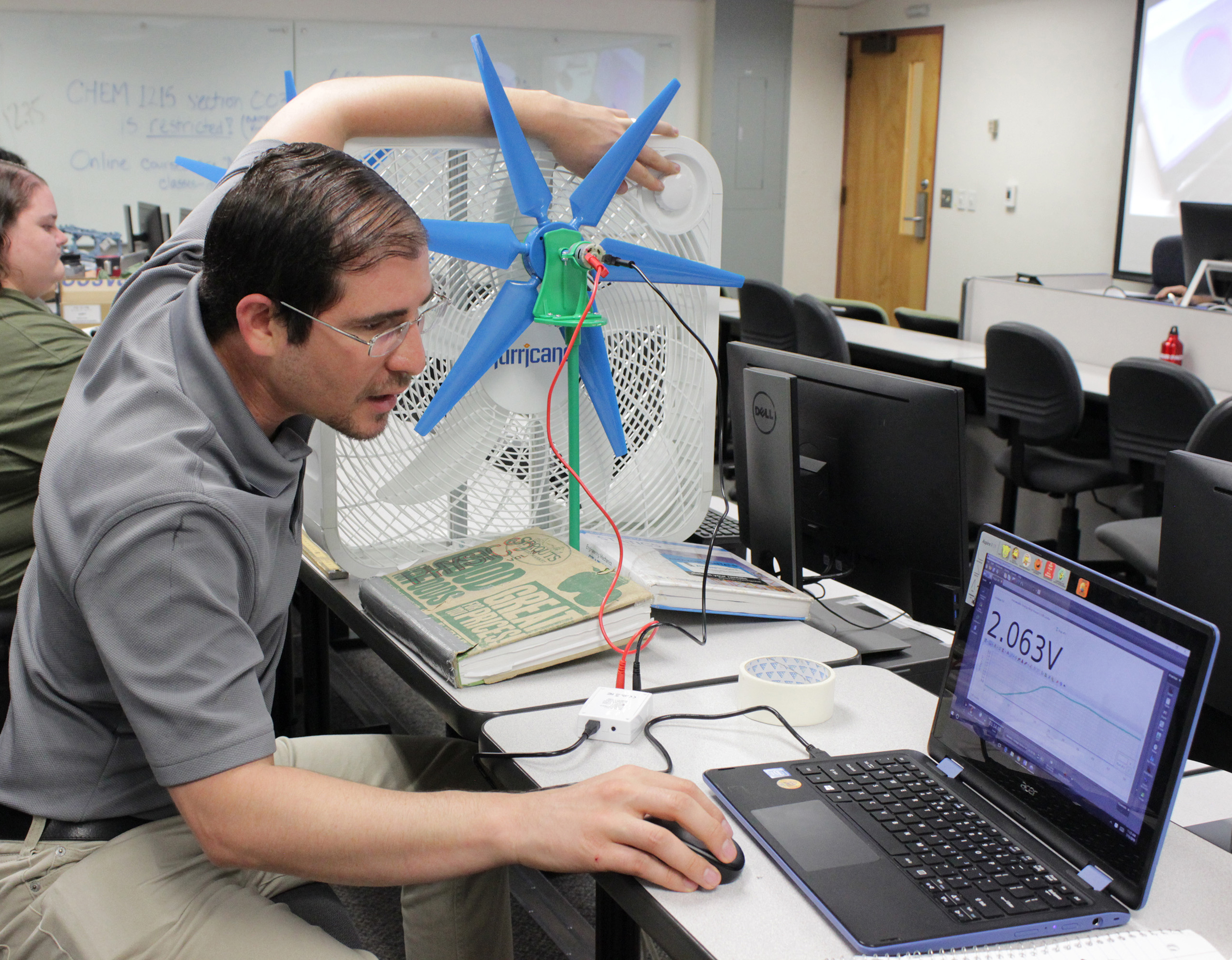 Sanchez, a mechanical engineering student at The University of New Mexico who transitioned into the program from CNM, is one of the students taking part in supplemental funding of a parent National Science Foundation STEP project called "STEPs in the Right Direction: Transforming Engineering/Computer Science Education at The University of New Mexico."
The goal of the STEP supplemental funding, called STEPS, is to encourage community college students to make the jump to pursue four-year engineering and computer science degrees. This is done through offering students eight-week paid internships at companies or projects where they work with other students and under the supervision and direction of a faculty member.
The STEP program started in 2011. STEP stands for STEM Talent Expansion Program. It was funded at the School of Engineering for $2 million to improve retention and graduation rates in the School's programs. The key to the parent project, and its supplemental funding, is to show budding engineers what engineers actually do in practice — using internships and real-world projects — in the hopes that they will stay in the field.
Ahmed Ali Hasan, who spent 27 years at Sandia National Laboratories in R&D, has been teaching a mechanical engineering course (ME150) related to the STEP project. He said that he has been able to bring his vast experience into the classroom.
"The students have a better understanding of an engineering degree, learning the philosophy of engineering and how to approach a problem," he said. "That benefits them in the classroom, but also in everything from home to politics."
He said the majority of community college students in the STEPS project have decided to go into engineering after completing the internship.
"It's been helpful in building a bridge from a two-year degree to a four-year degree," he said.
Among the projects and technologies the ME150 students have worked on are CNC machines to produce prototypes for customers, 3D printers, robotic arms, automation equipment and smart sensors.
This summer, the group of five STEPS students is working on three projects: examining the structure of a bridge, measuring the voltage of a solar- and wind-powered fan, and a project involving cards that collide.
The project targets those interested in pursuing STEM degrees, but who may not often have a strong idea of what an engineering program looks like or how to use the engineering principals in real life.
Whitney Blair, who was taking courses at CNM in math, recently started as an electrical engineering student at UNM. She was working on a report about what she'd learned thus far in STEPS.
"This is my first time doing a science report," she said. "I've learned a ton. It's cool to see what you learn in class put together in the real world."
Sanchez explained that the project involving designing a bridge was educational because it forced the students to basically re-engineer how a bridge should be designed, starting with a design that was structurally deficient. They used their math and engineering skills in practice to understand why that design didn't work and why bridges must be designed in a certain way.
"Teaching students in a hands-on way is more effective," said Hasan. "They make mistakes and find the information on their own. That's how we create scientists and those with critical-thinking skills."
The NSF STEPS project is ending at the end of September, but it's had a great impact, said the director of the project.
"The vast majority of the two-year institute students who participated in STEPS have kept their interest in pursuing an engineering career, which is the original goal of the funded project," said Tariq Khraishi, principal investigator on this grant and the previous parent grant since 2011, and a professor of mechanical engineering.
Videos of projects students have worked on in ME150 can be found on YouTube, such as a robotic arm demo and 3D printing and robotic welding.