UNM's Solar Splash team finishes fourth overall in national contest
June 20, 2019 - By Kim Delker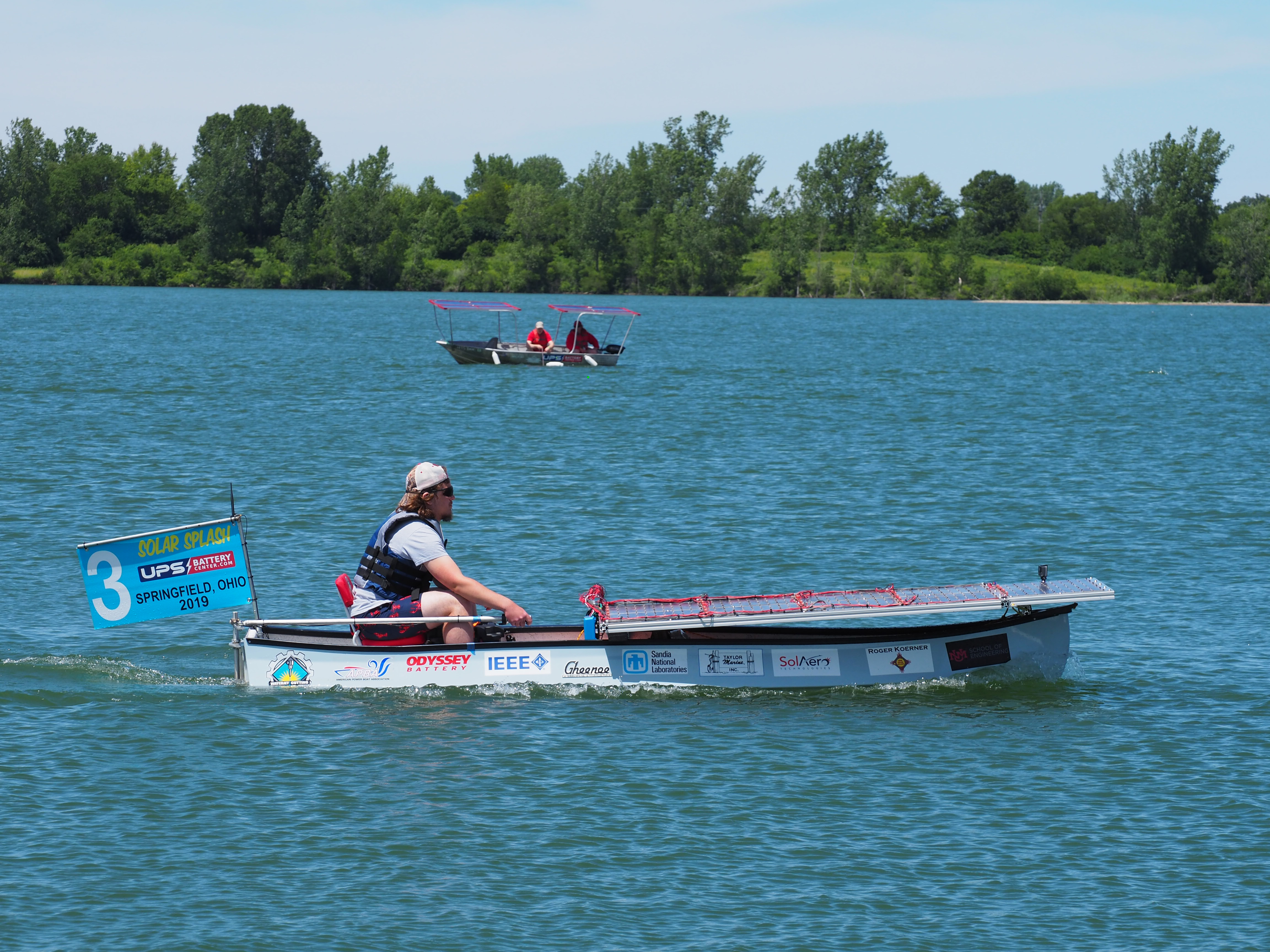 The University of New Mexico's Solar Splash team finished in fourth place overall in the national Solar Splash contest in Springfield, Ohio, in addition to winning other awards.
Solar Splash was held June 11-15, with 17 solar-powered boat teams from around the world submitting entries into the competition.
UNM's team earned third place in the solar slalom event and also won the Teamwork Award for best coordinated group effort.
The team was led by faculty advisors Peter Vorobieff, professor of mechanical engineering, and Jane Lehr, professor of electrical and computer engineering.
Vorobieff said that he was pleased overall with the team's performance. Even though the goal was to place in the top three teams, he said that UNM landed in fourth place, not because of any problems with UNM's boat performance but because of the high-quality competition, including an unexpectedly strong performance from Stevens Institute of Technology, which took the No. 3 spot this year.
He said that the team intended to experiment with a new hull that was made of wood and student-designed (the current hull was purchased from Gheenoe and heavily modified). The team actually did finish that wooden boat but decided that there was not enough time to test it out before competition, so they will save that for next year's team.
"We took the conservative approach this year," Vorobieff said. "We're hoping that the new hull will have a lot less drag."
Instead, this year's team made incremental improvements to the array and the boat, with the goal being to improve reliability and making the boat lighter.
For the third year in a row, the team used solar cells from Albuquerque-based SolAero Technologies, which Vorobieff said are the highest-quality space-grade cells and unique among other competitors.
"Nobody has anything close to our solar cells," Vorobieff said.
In 2017 and 2018, UNM's team won best solar display using those cells.
He said previously, the team had used a water-cooled mechanism to regulate the temperature of the cells, but a rule change this year prevented them from including that feature.
The team will likely need to replace cells for next year's boat and plan to reach out to SolAero again for additional solar cells next year.
"SolAero has been an outstanding friend to us," he said.
In addition, Vorobieff is grateful to all the supporters, especially Roger Koerner, David Menicucci and ExxonMobil.
He said the eventual goal for Solar Splash would be to establish an endowment so that funding the team isn't dependent on raising money year to year.
Donations to Solar Splash can be made here.
Team members traveling to competition were Vorobieff; Andy Fierro, who advised the electrical engineering side; and students Kevin Wang Haung, Wai Lam Wong, Antonio De Alleluia, Carter Sanford, Allie Snyder, Logan Cole, Tyler Siska, Joshua Cheromiah, Trey Alexanderson and Nick Montano.