UNM leading $5 million, 5-year Rio Grande consortium project for regional workforce development
UNM leading $5 million, 5-year Rio Grande consortium project for regional workforce development
May 25, 2023 - by Kim Delker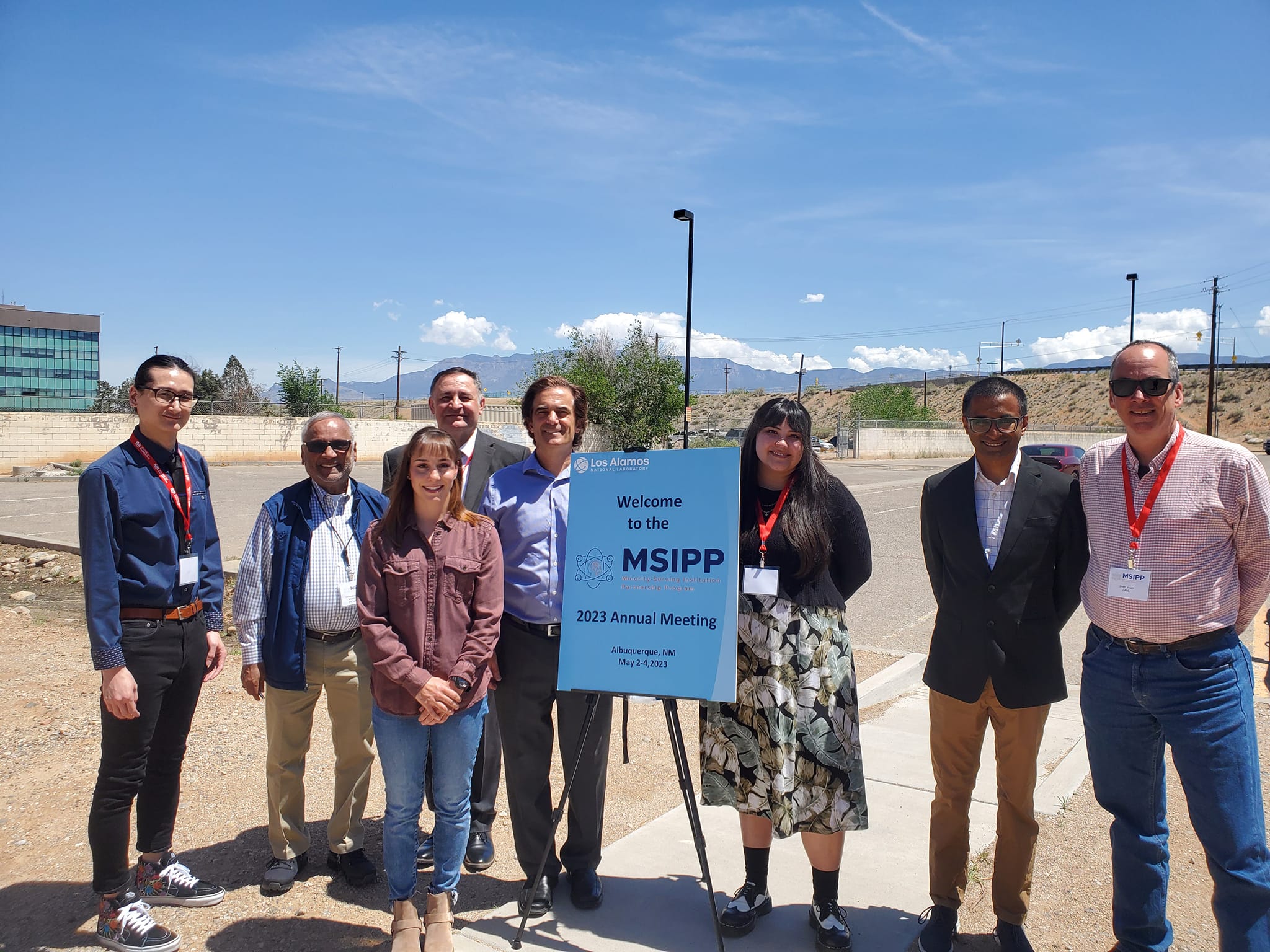 Members of the Minority Serving Institutions Partnership Program met in Albuquerque earlier this month, and members of the Grande CARES consortium presented some of their work so far.
Attracting more engineers, especially those from underrepresented groups, into graduate school and guiding them toward eventual employment with the national labs is the goal of a new consortium funded by the U.S. Department of Energy (DOE).
The Minority Serving Institution Partnership Program (MSIPP) of the DOE's National Nuclear Security Administration recently awarded $5 million over five years to a consortium being led by School of Engineering faculty at The University of New Mexico.
Peter Vorobieff, a professor of mechanical engineering, is heading the Rio Grande Consortium for Advanced Research of Exascale Simulation (Grande CARES). The team's goal is to develop a sustainable workforce pathway for students interested in pursuing advanced modeling and simulation. This includes incentives for students to pursue graduate degrees at institutions in the Rio Grande region and eventually gain employment at a national laboratory.
The Grande CARES team includes New Mexico Institute of Mining and Technology, New Mexico State University, the University of Texas at El Paso (all Hispanic-Serving Institutions), Prairie View A&M University and Sandia National Laboratories. Svetlana Poroseva, professor of mechanical engineering, is also part of the UNM team.
Vorobieff said that the Grande CARES project is targeted toward attracting those who might not ordinarily seek out engineering as a degree path or a career, especially Hispanic students.
The ultimate aim of Grande CARES is to produce a sustainable pipeline of scientists and engineers through collaborations established with Sandia scientists and faculty from the partnering institutions.
"Our goal is to train students locally who will form the basis of a strong workforce for the national labs," he said.
He said all the institutions who are consortium members have similar student population demographics and struggle to attract graduate students who are diverse and live outside the state. With this agreement, New Mexico students can attend graduate school at the participating Texas institutions and vice versa, and all the consortium members are in proximity to Sandia, which has expertise in modeling and simulation.
The consortium will address the pressing gap in discipline-specific education of students that prepares them for careers in large-scale computational simulations and modeling. The goal is to develop, validate and integrate cutting-edge computational tools for complex engineering challenges using high-performance computing, machine learning, data analytics/big data concepts, uncertainty quantification and various computational capabilities. These fields will experience growth in coming years, as big data needs will grow and engineers will strive to develop solutions for complex challenges such as climate change.
"It all naturally fits together," he said. "We are geographically close and stand to gain the same advantages, in particular, to boost graduate student enrollment — especially students from outside the state — as well as diversify the workforce at the national laboratories and provide enough engineers in the coming decades to meet demand."
Vorobieff said that the consortium brings together researchers from the areas of mechanical engineering, civil engineering, computer science, computational science and mathematical science.
He said he credits the close partnership of many people at UNM, Sandia and at the partner universities for making this project possible. He said in particular, he credits Scott Collis, director of computing research at Sandia, for helping make the partnership possible. Unfortunately, Collis died in September, just before the team was notified that they received funding.
Vorobieff also thanks Yu-Lin Shen, department chair and professor of mechanical engineering at UNM, and Patrick Bridges, director of UNM's Center for Advanced Research Computing and professor of computer science, for their collaboration that made the project a success.
He said one important precursor to the establishment of the five-university collaboration was a 2020 town hall meeting on strengthening the national foundation for advanced modeling and simulation. The event was co-organized by Vorobieff, Vinod Kumar — now the University of Texas at El Paso (UTEP) consortium lead — and Krishna Kota, the NMSU lead. The meeting featured UNM President Garnett Stokes and Provost James Holloway, UTEP President Heather Wilson and Provost John Wiebe, National Science Foundation Director Sethuraman Panchanatan, Air Force Office of Scientific Research Director Shery Welsh, as well as directors and managers of research programs from DOE and Department of Defense.
"Our ability to establish this consortium is due to the fact that we created a lot of synergies at UNM, thanks to President Stokes, and our experience with working with University of Texas at El Paso, NMSU, New Mexico Tech and Prairie View on previous projects."
The Grande CARES project was among nine grants totaling $40.8 million to minority-serving institutions to unleash untapped potential in students and expand the Department of Energy NNSA pipeline. The program now has 33 consortia partnerships that encompass 56 schools and 14 NNSA laboratories, sites and plants.