Jackson leading National Science Foundation project to innovate graduate STEM education
Jackson leading National Science Foundation project to innovate graduate STEM education
October 11, 2023 - by Kim Delker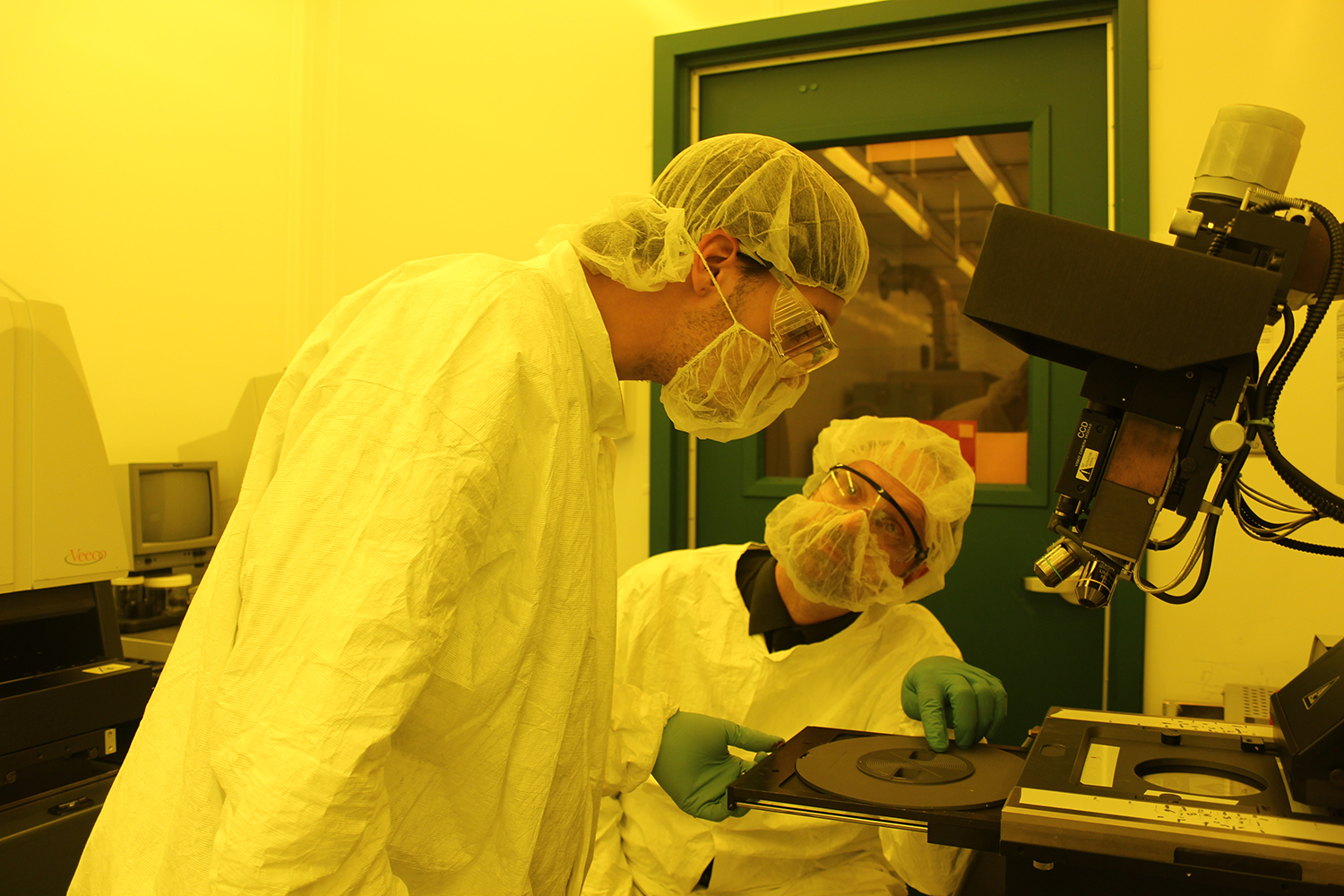 Matt Pleil works with a student in the MTTC cleanroom at UNM.
In an ideal world, every student who graduates from the School of Engineering would acquire the skills, knowledge and abilities required to easily transition to the industrial workforce, allowing them to make an immediate impact.
Currently, graduate STEM education does an excellent job at preparing students for academic careers through research and technical writing but often relies on internships to prepare students for non-academic careers. But unfortunately, not all graduate students have the opportunity to gain those skills through internships, which can lead to some skill gaps when students enter the work force. This is especially true in coursework option master's programs, which provide the knowledge though courses but not the hands-on skills or abilities often needed in non-academic careers.
A new National Science Foundation-funded project is striving to change that, however. Nathan Jackson, an associate professor in the Department of Mechanical Engineering and Director of Nanoscience and Microsystems Engineering Program, is the principal investigator of "Applied Graduate STEM Education through an Innovative Hands-On Industrial Work Experience."
The three-year project begins this month and also includes as co-principal investigators Matthias Pleil, a senior lecturer in mechanical engineering and cleanroom manager at UNM's Manufacturing Training and Technology Center, and Sung (Pil) Kang from UNM's Organization, Information and Learning Sciences (OILS) program.
"Basically, we are creating two new courses that aim to increase job readiness for graduate STEM students by mimicking an internship or start-up experience rather than typical lecture-based courses," Jackson said.
The courses will be focused on microsystems and semiconductor manufacturing industry due to its high interdisciplinary demand, thus inviting students from all STEM disciplines to participate in the program.
"We are also working closely with industry to help us to build the curriculum to provide students with the skills, knowledge, and abilities desired by industry," he said.
Jackson said that the issue of job readiness is a hot topic with both employers and academics. Universities have traditionally prepared graduate students in the STEM fields to gain experience writing scientific papers and presenting at conferences, which gives them valuable experience if they are interested in getting a Ph.D. and entering academia, but employers are increasingly reporting that students with only academic preparation are not fully prepared to contribute to the complex, high-tech workforce directly after graduating.
Skills that often aren't covered in a STEM curriculum include "soft skills" like leadership, teamwork and collaboration.
He said that while some students do get real-life experiences through internship opportunities, other students may have research assistantships, live in rural areas or are international students, which makes it more challenging to gain this experience.
Jackson said this project will focus on career readiness, primarily in the micro- and nanotechnology industry. The new courses will strive to create an industrial environment of a startup company, with instructors taking on the role of project managers and students taking on various leadership roles within the "company" to create a functional prototype device. There will also be mock interviews for students, where students have the chance to interview with actual companies at the end of their internships.
"We are trying to bridge the gap between academia and industry," he said. "Our goal will be to get them to think of us not as professors but as employers."
There is an increasing demand for employees in these fields, thanks in part to President Biden's CHIPS and Science Act. Project leaders say the largest growth segment will be in nanotechnology-enabled systems, including actuators and sensor-based, smart devices which require multidisciplinary STEM knowledge to create a functional commercial system.
"This project will better prepare graduate students to work in emerging technology fields with an innovative, hands-on, team project-based approach utilizing a microsystems manufacturing framework," Jackson said.
Although these courses are geared toward microsystems engineering industries, Jackson said they are designed to be interdisciplinary, with the goal of attracting students not just in engineering but also other STEM majors.
The two courses are expected to debut in the curriculum in fall 2024. OILS faculty will be involved in the project evaluation, comparing the experiences and results from the mock internship courses and comparing them with experiences of students who had a industry internship.
This project is part of National Science Foundation's Innovations in Graduate Education program, which is focused on research in graduate education.